History of Stanwardine in the Wood
History of Moated Site 11th - 15th Century
History of Stanwardine Hall 16th- 20th Century
Description of Stanwardine Hall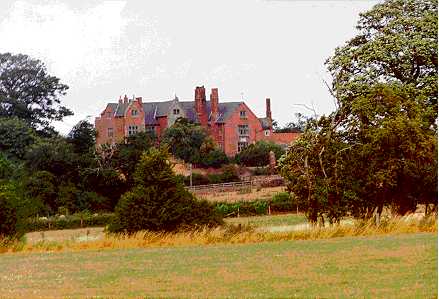 History of Moated Site 11th - 15th Century
Leunot was the Saxon Lord of Ruyton, Petton and Stanwardine before Domesday in 1086.
After 1086 Stanwardine was in the Seigneury of Fitz Alan who also held Ruyton.
Richard de Stanwardine was the sheriff at Stanwardine under Fitz Alan.
1175

Richard de Stanwardine testifies to two Charters of the second William Fitz Alan to Buildwas Abbey.

1177

Richard de Stanwardine was fined 60 merks and two destriers for Forrest trespass. This indicates that he was a wealthy man as the fine was more than many contemporary barons were charged and he managed to pay the penalty in two years.

1189 and 1193

Richard de Stanewardine being impleaded in the Curia Comitatus, under a writ of right for one virgate in Stanewrd put himself under Grand Assize, 'whether he or the plaintiffs (Matilda de Cote and her son Robert) had the better right'.

Original in Latin below:

Salop-Ricardus de Stanewrd ponit se in magnam assisam de j. virgate terre in Stanewrd quam Matillis de Cote et Robertus filius ejus clamant versus eum per breve recti in comitatu et petit recognitionem quis illorum majus in ea habeat.

Source: Curia regis roll 12 temp. Richard I

National Archives: Kb 26, pg12.

1193

William de Stanwardine, son and heir of Richard, was security in the sum of 6s. 8d for the reprieve of Engelard Bozzard.

1221

William de Stanwardine (II), son of the above William, married Emma, daughter of Eynon de Hordley.

~1230

Walter, Parson of Ruton, testifies to a deed.

1230

William de Stanwardine (II) removed Stanwardine from the suit of the Pimhill Hundred.

1231

William de Stanwardine (II) was deceased in 1231 leaving Emma surviving.

1231-1240

Hugh de Stanwardine was Lord of Stanwardine. He conceded half the mill of Wycherly to his son William.

1236

On November 21, 1236, a Fine was levied showing that Hugh de Stanwardine was bound to warrant a half-virgate in Bagley to his tenant Alexander de Bagley, who was sued by William fitz Thomas for the same, under Writ of mort d ancestre. Hugh was obliged to buy off William s Quitclaim by payment of 9 merks.

~1240

Hugh de Stanwardine, son of William, son of William de Stanworthin, gives to Salop Abbey, for the souls of himself, his father, and his mother, Emma, all the lands which he held under the Abbey, within and without the vill of Baggeley. Witnesses, Roger de Pivelsdon, Thomas de Lee.

Before 1241, Hugh de Stanwardine had been succeeded by his brother William.

1241

William de Stanwardine (III) was levied a fine at Gloucester, where William Fitz William conceded to Agnes, widow of William Fitz Ralph 4s annual rent in Stanewrdin arising from a tenement held by Maddoks and Richard Mercator. This was in lieu of Dowry claimed by the lady for a third of two virgates of land and 11s rent in Stanwrthin.

1243

William fined half a merk for some inquest to be had.

1251

William of Leighton on behalf of Gillea of Stanwrdin agrees to render 10 pence for a period of 24 years on the day of St John the Baptist and Michaelmas for some land in Stanwrdin on the 35th year of the reign of Henry III to Peter of Petton.2

<![if !vml]><![endif]>
Manuscript held at Shropshire Local record office, Ref 3195/1 pg 28.

1255

The jurors of Pimhill Hundred said that William, Lord of Stanwardyne-in-bosco had withdrawn suit from County and Hundred for 24 years whereby the King had damages of 46s, or at the rate of 2s per annum. William died before 1256.

1256

Roger de Stanwardine, son and heir of William was of age in January 1256 as he was fined for non-attendance at an inquest.

1259

Alina, widow of William, gave some land in Eyton to Sir William de Leighton. Alina was still alive in 1272.

1263

Roger de Stanwardine was sued by Richard de Petton on April 20 1263 for taking away a tenement from Richard in Staneworthin.

1266, 1267

Peter de Petton, son of Richard, renews the suit concerning a messuage (house with buildings and land) and two virgates.

1272

The suit was at trial by the Assizes with a fine as the result. Peter renounced his claim on the messuage and two virgates and in return Roger gave half the mill at Wycherly to Peter and the use of his woods. Peter, thereby allowed Roger the use of the woods at Petton called Roswode and Heyshete. Both parties reserved the right to make assart of their respective woods.

1274

At inquests of November 1274 the jurors of Pimhill spoke of Roger de Stanwardine as recently being Constable of Shrewsbury Castle. They alleged an act of corruption against his deputy, Reyner le Mons, who had released a prisoner for a bribe.

1285

Roger de stanwardine was served a writ from Hugh Bernard, a merchant, of Shrewsbury for 57s 3d on the 12th March 1285.

Source: National archives c 241 / 8

1297

Reginald de Stanwardine in debt to Isabel wife of John de Ludlow.

1303

Reginald de Stanwardine in debt to John Baldwin of Shrewsbury for 50s.

1290-1302

The abbot of Haughmond complains that he holds the fourth part of the fee of Stanwardine with its members which are in Shropshire in Pimhill Hundred, but the earl of Arundel holds the vills occupied outside of the county to his liberty of Oswestry which is in Welshry, from which he takes all manner of profits that pertain to the king against the king's estate and dignity.

<![if !vml]><![endif]>

Source: National Archives, Kew: Ref: SC 8/325/E701

1306

The vills of Petton, Burwelton, Stanwardine, Bagley and Hordley request relief from the thirtieth as a result of the depredations of the Welsh.

<![if !vml]><![endif]>

Source: National Archives, Kew: Ref: SC 8/308/15377

1307

Philip de Stanwarthyn sold to Richard Hord of Walford and his wife Eva one measure, two carucates of land, and 18s rent in Stanwarthyn and Wycherlegh for 100 pounds.

Isabel Mortimer, widow of John Fitz Alan had the Seigneury of Stawardyn-in-bosco, with Montford, Hedenesdon (Ensdon), Forton, Ness, Little Milford and Shrawardine.

1325

John Fitz John, Rector, died on April 3rd 1325.

1325

John de Coventry admitted as Rector May 15th, 1325. The Patrons were the abbot and the convent at Haughmond.

1326

Richard Hord died in January 1326 where he was found by inquest to have held the hamlet of Stanworthyn-in-the-wode under Richard of Arundel by a rent of 2s and by two appearances a year at the Earl's Court of Montford.

A windmill was one of the items of the Stanwardine estate.

Richard Hord had his own manorial court at Stanwardine though its profits were only one shilling per annum.

In Richard II's time Stanwardine was accounted as a whole Knight's fee.

1332

William de Tykelwardyn, Chaplain, instituted as first vicar January 4th 1332.

1358

Robert de Haston, Priest, appointed August 18th 1358

1381

Roger Hord of Stanwardine held the office of High Sheriff of Shropshire.

1385

John Wygnton, Chaplain, admitted June 13. He died in 1387.

1395

Richard Radenale, again vicar, died in 1395

1395

John Gamull, alias Rusell, Priest, admitted May 31, 1395. He died in 1407

15th century

Griffin Kynaston acquired the estate of Stocks by marriage with the daughter and heiress of John Hord.

1538-1544

Thomas Clarke late of Acton v Thomas Kynaston, gentleman: seizure of cattle at Stanwardine.

c 1/963

1551-1553

Robert Corbette, Jane his wife, Ralf Clyffe, and Dorothy his wife v Humphrey Hanmer and Alice his wife late the wife of Thomas Kynaston: detention of deeds relating to the manors of Walford and Stanwardine late of Roger Kynaston deceased brother of female complainants.

Sear 44d

Following are images of  Title deeds (Not yet translated) dated between 1296 and 1695, relating to properties in Wycherley in the parish of Baschurch and to the manor of Stanwardine in the Wood, including the gift of ancestral lands by Roger of Stanwardine to his son, Lewelin, 1296; purchases, leases and family settlements of Richard and John Hord, 1309-1397 and of the Kynaston family, 1495-1549.

Ref: ETG1/2, National Library of Wales

1 bundle (34 items), 1296-1397, 1495, 1544-1695

Baschurch

1577

<![if !vml]><![endif]>
Map of North Shropshire by Christopher Saxton in 1577 for Lord Burleigh. Original in British Library.
Stanwardine is shown as Stannerton on map and Kenwick is enclosed for a deer park.
History of Stanwardine Hall 16th- 20th Century
1581

1593

1610

1615

Robert Corbet (born about 1523, buried 30 Jan 1593/4) built Stanwardine Hall. He was the younger son of the family of Corbet, of Moreton, who was Sheriff in 1530. He married Jane (born about 1536, buried 23 Dec 1588) who was the daughter and heiress of Roger (Thomas) Kynaston of Walford and Stanwardine whose great grandfather was Griffin Kynaston.

They had the following children:
1. Roger, born 1561, christened 8 Jun 1561 at Shawbury, buried 21 May 1591
2. Thomas, born about 1562 at Stanwardine, died 17th Nov 1615.
3. Richard, born 1564, christened 1 Apr 1564, buried 10 Mar 1625.
4. Arthur, born about 1566.
5. Reginald, born about 1568.
6. Susannah, born about 1570, married William Yonge of Kenton
7. Gertrude, born about 1572, died 4 April 1643
8. Jane, born about 1574
9. Margaret, born about 1576

The younger son, Richard, was a barrister and a steward to the Earl of Arundel.

The old moated hall was converted into a garden.3

On the wainscot of the hall is a scroll with the date 1588, and the steps of the staircase are of solid blocks of oak, brought from the older house.4

As well as Stanwardine, Robert Corbet held land at Hampton wood, Sugdon, Burlton, Wykey, Marton and Newton on the Hill.

Indenture between Robert Corbet and son Thomas. Robert Corbet's will was proved in 1594.

Thomas Corbet enlarged Stanwardine Park and purchased lands in Wycherley and Bagley. He married Margaret (born 1579, buried 12th April 1659) younger daughter of Sir Vincent Corbet of Moreton Corbet on the 13th September 1605 and they had a son and two daughters:

1. Robert, born about 1606 at Stanwardine, buried 20 Apr 1676 at Baschurch church.
2. Mary, born about 1608.
3. Elizabeth, born about 1610.
<![if !supportLineBreakNewLine]>
<![endif]>

Indenture from Thomas Corbet

In the church at Baschurch there is a plaque with 'Thomas Corbet died 17. 12.1615.'
<![if !vml]><![endif]>
On his death his widow married Sir Thomas Scriven of Frodesley. "She lived to a good old age and could read a letter without spectacles when she was above eighty years old" (Gough).

1636

Robert Corbet II was sheriff. He was also Justice of the Peace and Custos Rotulorum of Shropshire and a master in Chancery.

Transcript of letters from Robert Corbet written in 1636 and 1639

Civil War (1642-6),

1643

Sir Thomas Scriven, a Royalist, was mortally wounded in the Battle of Wem in the summer of 1643. He was part of the attack on the small force who successfully defended the town and gave occasion to the following rhyme:

The women of Wem, and a few musketeers
Beat the Lord Capel, and all his cavaliers.

1644

On January 12th 1644 the Cavaliers were defeated at Ellesmere. They had stopped the night there on their way from Shrewsbury to Chester with resupplies of ammunition. Colonel Mytton led the attack and Robert Corbet of Stanwardine in the Wood is listed as being on the committee as appointed by an ordinance of Parliament.

Although Robert Corbet along with the Corbets of Adderley and of Auston near Pontesbury fought for the Parliament the head of the Corbet family, Sir Vincent, and his relative Pelham Corbet fought for the King.

Robert Corbet was a Colonel in the Parliamentary Army and rose to the rank of Major General. His brother in law was Edmund Ludlow a well known Republican (Ref 11).

Richard Gough of Myddle wrote that Prince Rupert on 19th March 1644 at Holt had vowed that, in reprisal following the capture and hanging of 13 of his Irish soldiers by the Parliamentarians, he would hang the next 13 prisoners he took. When a number of prisoners were taken 'They cast dice on a drum head to see who should die and amongst them there was one Phillip Littleton who had been a keeper of the park of my old master, Robert of Stanwardine, Esq. This Phillip saw Sir Vincent Corbett of Moreton Corbett ride by, and said to some that stood by 'If Sir Vincent Corbett did know that I was here, he would save my life.' Upon this a charitable soldier rode after Sir Vincent and told him what one of the prisoners had said. He came back immediately and seeing Phillip he alighted from his horse and fell on his knees before the Prince (who sat on a horse to see the execution) and begg'd for the life of Phillip which was readily granted on condition he would never bear arms against the King. Phillip promised and escaped and afterwards no more Irish were hang'd.'

| | |
| --- | --- |
| <![if !vml]><![endif]> | <![if !vml]><![endif]> |
| | |

1654

Robert Corbet II was M.P. in the Commonwealth Parliament.

Gough3 writes "Under him I had my education for many years, and served him as a clerk. He was once chosen knight of the shire and served in parliament where they presented the Protector (Cromwell) with twenty four acts. He was willing to sign some of them but not all; but the parliament had voted that all should be signed or none. The Protector took time to consider until next day, and then he came to the parliament house with frowning countenance and with many opprobious terms dissolved them, and gave them the character, the pack of stubborn knaves."

Robert Corbet married Elizabeth (born about 1610, buried 22 March 1686/87) the daughter of Sir Henry Ludlow of Clarington Park in Wiltshire on the 12th September 1634 at Lic, Hampshire and they had the following children:
1. Robert, born about 1635, buried 6 Sep 1636, Baschurch.
2. Thomas, born 1636, Baschurch.
3. Letitia, born 1638.
4. Andrew, born 1639, christened 8 Jan 1639/40
5. Andrew, born 1640, christened 17 Jan 1640/41
6. Elizabeth, born about 1643, buried 17 Apr 1713.
Elizabeth married George Clive of Walford on 20th May 1662 and was the great grandmother of Rober Clive of India.
7. Robert, born 1644, christened 4 Jul 1644, buried 22 Jul 1644.
8. Margaret, born about 1646, married Fillingham. Will proved 1675.
9. Mr Corbet, born about 1648.
10. Mary, born about 1650.

Thomas Corbet was a friend of Non Conformist ministers.

1660

Indenture between Robert Corbet and his son, Thomas, and also in 1666

Thomas married Mary Gerrard (born 1642 at Stourton in West, Wiltshire, died aft 1700) on the 12 March 1660/61 at St Gregory By, London.

They had the following children:

Robert, born 1661, christened 31 Dec 1661 at Cockshutt, died after 1686.
Elizabeth, born 1663, christened 10 Sep 1663,

Baschurch

, buried 22 Mar 1686,

Baschurch

.
Mary, born 1665, christened 11 Sep 1665.
William, born about 1667,

Baschurch

.
Thomas, born 1669, christened 8 Dec 1669, died before 1686.
Anne, born 1671, christened 6 Jan 1671/72,

Baschurch

.
Richard, born 1672, christened 29 Mar 1672,

Baschurch

, died after 1686
Margaret, born 1673, christened 27 Jan 1673,

Baschurch

.
John, 1675, christened 22 Jan 1675/76, buried 28 Jan 1675/76

Baschurch

.
Jane, born 1677, christened 26 Apr 1677,

Baschurch

.
Lucy, born 1679, christened 16 Jul 1679.
Henry, born 1682, christened 16 Nov 1682,

Baschurch

.
Martha, born 1685, christened 1 May 1685,

Baschurch

.
(Ref 10)

1671

Philip Henry writes in his diary "July 12, 1671. With wife at Stanwardine. Much made of there, but little good done by reason of a vayn, unfixt, unfruitful heart. I accompanied them killing a buck in their own park, far from being taken with any great delight or pleasure in ye sport; they sent part of him to Broad-Oke after us."

1672

<![if !vml]><![endif]>
Hearth tax roll for 1672. Ref E 179/168/216 pg 63 back, National Archives, Kew.
The Hearth Tax was introduced in 1662 but was very unpopular due to its intrusion of people s privacy and was replaced in 1689 by the Window Tax resulting in many windows at Stanwardine being bricked up.
The above hearth tax toll of 1672 shows Robert Corbet Esq with 15 hearths and a payment required of £1 and 10 shillings with each hearth being taxed at 2 shillings. Stanwardine now has 13 hearths, 2 fewer than that in 1672, indicating that the 2 were at the now demolished western gable end of the house.

1680

Nov 3rd Indenture between Thomas Corbet on one part and John Smith and Benjamin Rogers on other part.

1690

July 18th Indenture of lease and release between Letitia Lee and Thomas Corbet, acquittance of Launcelot Lee, fishmonger, for 200 pounds.

1695

Indenture between John Horton tenant at Stanwardine and Thomas Corbet to the Vicar of Baschurch, George Hudson, to pay 40 shillings a year in tythes.

1698

Feb 23rd Indenture between Thomas Corbet, Joseph Guidler, Leanor Hancock, Sampson Shelton Broughton and Michael Noble on one part and Sir John Wynn Baronet on other part.

Thomas Corbet II was living in the county of Worcester after having sold, gambled away at dice (Hazard) or even allegedly losing Stanwardine in a snail race to Sir John Wynn of Watstay.

Stanwardine has since been used as a farmhouse.

In 1699 there was a dispute over common of pasture of the manors of Stanwardine, and Wycherley between Sir John Wynn and his new neighbours: Roger Finch, John Reignolds, John Bagley, Edward Whattall, John Dodd, John Wiky, Thomas Bruckfield, Charles Kynaston, John Kynaston, Roger Atherley, Mary Atherley, Anne Harris, Eleanor Harris, Robert Vaughan and others.
(National Archives, Ref: C6/335/15.
 Images:
A1,B1,C1,C2,
D1,D2,D3,D4,D5,D6,D7,D8,D9,D10,
E1,E2,E3,E4,E5,E6,E7,E8,E9,E10,E11)

Sir John Wynn kept an extensive Estate book detailing the rents and business of his properties which are now held at the National Library of Wales. Extracts of the Stanwardine Estate are as follows:

1701

Mr Horton paid £130 rent. He was already tenant to Thomas Corbet in 1695.

1707

John Evans craves allowance of money by him layd out at Stanwardine by account dated 28th Jan 1707 = £75-13-01

            John Evans craves more allowance of money at Stanwardine beginning the first of Aug 1707 for harvest works, in getting hay £7-14-4, getting corns £2-1-6, more getting corns £5-4, for other works £9-11-6 as layd out. Sir John Wynn was at Stanwardine in July 1707 - £1-10-11. ... - £23-05-07

1708

Rent from Robert Joy for farm house & lands hereto belonging - £60

       Margaret Davies for two rooms in the new house and a garden - £7-00-00

       Thomas Edwards for his house, land and garden - £02--10-00  

       Francis Jones for his farms - £27-0-0

            for a Cottage                  - £00-8-6

            for Dones meadow        - £02-8-0

            for Nifos meadow           - £02-3-4

       Mr Davies for 4 parcells    - £14-0-0

            for a meadow                 - £02-5-0

        Choose rent out of his farm- £00-1-1

            For a Coat                      - £00-0-2

       Randle Bradshaw for his farms - £09-00-00

            and for a meadow            - 01-03-00

           

            Total rent at Stanwardine in 1708 - £121-11-01

1710

Feb 27th Probate of Sir John Wynn

1713

Sir John Wynne, Knight and Baronet, converted the kitchen into two rooms by installing a false ceiling.

1714-15

Elizabeth Joy, Widow, charged rent for the farm house and lands thereto belonging - £54-10-00

     John Evans for the new house and gardens, the orchards behind it, the croft, the barns, the kitchen field, the holly bank, Higley's Poor, the windmill field and the Way Furlong - £35-00-00

     Thomas Edwards for his house, land and garden - £02-10-00

     Francis Jones for his farm £27-00-00

            for a cottage           £00-00-06

            for Dones meadow     £02-08-00

            for Nifos meadow       £02-03-04

1717

Apr 23rd Francis Loder was tenant. Stanwardine was part of the Little Woolascott Estate.

1734

Sept 7th Probate of will of Sir William Williams

1736

Rent from Thomas Sydes for his farm house, orchard & lands and the tenement held by John Davies, except a meadow - £063-00

     Francis Edwards for his house, garden and lands - £02-10

     Francis Jones for his farm -- £27

                           for a cottage  -£0-0-6

                       for Dones meadow - £2-8-0

                       for Nifes meadow - £2-3-4

                           for a Duty rent  - £0-2-0

                           for Dawesw meadow - £2-5-0

 

    Edward Kinnaston a Cheife rent for Wicherley Hall £0-1-1

           

    John Reeves for the late farm of Randle Bradshaw - £13-0-0

                        for a cottage and croft                             - £0-1-6

                        for Eyres meadow                        - £1-13-4

1750

Stephen Denston charged annual rent by the Wynnstay Esate of £135.

1768

 John Denston charged annual rent by the Wynnstay Esate of £135 from Lady Day 1767 to Lady Day 1768 (of which £107.12s.6p was received and the remainder £27.7.6 was an 'allowed lax'

      Other tenants at Stanwardine were Richard Parton (£61), Widow Edwards (£2.10), & Thomas Jones (£50).

1771

Nov 18th Indenture between Sir Watkin Williams Wynn on the first part and Dame Frances Williams on the second part

1772

Jul 22nd Indenture between Phillip Jennings on first part and Sir Watkin Williams Wynn on second part.

1814

Indenture of lease and release made between Sir Watkin Williams Wynn of 1st part, William Wech of 2nd part and William Parry Richards of 3rd part.

1816

Indenture of release between Revd John Ward Clerk and Ann Catherine his wife one part and Sir Watkin Williams Wynn on other part

~1818

Sir Watkin Williams Wynn sold the property for £40,000 to William Sparling of Petton where it merged into the Petton estate.

1839

Jul 14th Schedule of Receipt of deeds given to William Sparling.
Denston:
Following taken from Baschurch church register and gravestone inscriptions:
1767

May 5th. Elizabeth daughter of John and Ann Denston, Stanwardine, baptised.

1768

 Dec 4th, Stephen, son of John and Ann Denston, Stanwardine, baptised.

1772

13th March. John Denston of Stanwardine in the Woods died 13th March  aged 45. Ref: C23. Gravestone on the floor at Baschurch.

1790

17th April. Marriage Articles of Stephen Denston & Jane Roberts:

1. Stephen Denston of Stanwardine in the Wood, p. Baschurch, gent.
2. Jane Roberts of Crosemere, p. Ellesmere, spinster (2nd dter. of David Roberts of Loppington, dec'd.)
3. John Bishop of Shrewsbury; Lewis Jones of Oswestry gents.

Before marriage of 1. and 2., agreeing to convey m. or tmt. with lands in t. Leaton now or late of William Kent (excepting an annuity of £30 to Ann Denston, mother of 1.) in trust to provide £50 annuity to 2. for life. Other terms.
AltRefNo 103/1/1/176 at Shrewsbury Records Office

1792

Feb 17th, Jane, daughter of Stephen & Jane Denston, Stanwardine in the Wood, baptised.

1807

July 18th, Ellen daughter of Stephen & Jane Denston, Stanwardine, baptised.

1812

June 29th, Stephen, son of of Stephen & Jane Denston baptised.

1837

Cockshutt Steeplechase, 1 Dec 1837

Stephen Denston organized a 4 mile steeple chase race with 2000 people present on the 1st December starting and ending at Stanwardine Hall and passing through Cockshutt, Crosemere and Petton. There were seven horses: Tarporley ridden by Stephen Denston in orange and white, Bootjack ridden by Mr Watson in black and white, Miracle ridden by Mr Clay in purple and crimson, St David ridden by W Sparling Esq and owned by Mr Kynaston in green with a red cap, Pavillion ridden by Mr K Bowens in orange, Rat Tail ridden by Mr Burtonborough in yellow and purple, Roy More ridden by Mr Minors in blue and white.

Each horse had to carry 13 stone. The officials were J. R. Kynaston (Steward), A. W Corbet, W Sparling (Junior), Dryden R Corbet, Clement Hill, P Charlton, and Captain Tudor Williams Junes Barker. (Ref 12).

<![if !vml]><![endif]>

The following newspaper articles of the account of the steeple chase were kindly transcribed by John Pinfold who has written a book on the history of Aintree and is thinking about writing a history of racing in Shropshire:

Shrewsbury Chronicle, 24.11.1837

A Steeple Chase open to Shropshire will take place on Friday next, the 1st December 1837 .

Rules:

<![if !supportLists]>1. <![endif]>Open to all ages, each horse to carry 13 stone, to be run about 4 miles, the second to save his stake.

<![if !supportLists]>2. <![endif]>To start near the village of Cockshutt, the horses to be rode by gentlemen or farmers; entrance 1 sovereign each.

<![if !supportLists]>3. <![endif]>The winning horse to pay all expenses for flags and measuring the ground.

<![if !supportLists]>4. <![endif]>The horses to be on the ground by one o clock and the riders at half past twelve to be weighed by the Umpire.

<![if !supportLists]>5. <![endif]>That all disputes be settled by the Umpire, whose decisions should be final.

<![if !supportLists]>6. <![endif]>Any gentleman may enter his horse on or before Tuesday the 28th of November, at Mr. Green s Office, Secretary.

<![if !supportLists]>7. <![endif]>The ground is so all arranged that the whole of the race may be seen from the coming-in chair. No spectators will be allowed to ride in the race or break down the fences.

Entries:

William Sparling Esq. s gr g Saint David

Mr. S. Denston jun. s ch h Tarporley

Mr. Wm Burroughs nms b g Rat Tail

Capt. Sparling s b g Moon Raker

J.E. Watson Esq. nms ch g Boot Jack

Dryden Corbet Esq. nms gr g Grass-hopper

S.W. Denston Esq. s ch g Pavilion

Thos. S. Oswell Esq. s br g Tom Thumb

John Dodd Esq. s b g by Sir Edward

Mr. Clay s br g Miracle

Shrewsbury Chronicle, 8.12.1837:

The Shropshire Steeple Chase a description of sport hitherto unattempted in this county, has at length been introduced, under such auspices, and with such exciting novelty, and the enthusiasm and personal sanction of the first sportsmen, as to place it very forward in the number of field sports for which our county is famous. A Contest open to All England, in which the stakes will be valuable, is now maturing; but in the meantime a Chase confined to the county has been run and gained in gallant style, in the presence of many hundred spectators. On Friday morning, all the country round, and many sportsmen from a distance, excited by the notice in our last Chronicle, made for Cockshutt, where shortly after mid-day the following horsemen and steeds appeared on the field to contend for the prize:-

Mr. S. Denstone, jun. s Tarporley, orange and white (ridden by the Owner)

Mr. Watson, nms Bootjack, black and white (Mr. G. Denstone)

Mr. T. Clay s Miracle, purple and crimson (Owner)

W. Sparling Esq. s St David, green and red cap (Mr. Kynaston)

Mr. F. Bowen s Pavilion, orange (Mr. A.Woolrich)

Mr. Burton Burroughs nms Rat-tail, yellow and purple (Mr. J. Cook)

Mr. Minor s Rory O More, blue and white (Mr. Ogle)

The distance over which they were to ride was four miles; and each 13 stone. They started from near Stanwardine Hall, thence to Cockshutt, by Petton Old Gorse and Petton Lodge & the left of Stanwardine Hall where was the winning post; being a country abounding in as many comfortable opportunities of neck-breaking, staking, ditch-grubbing and summersetting, for men and horses, as the most ardent sportsman could desire. Tarporley took the lead over the first fence, and led the way over the second at a rare pace. Pavilion making a distressing genuflection thereat which his rider soon overcame. Rat-tail jumped sideways at fence the third, and his rider divorced him. Some dismal drains and sunk fences succeeded, into the second of which Tarporley, Bootjack and St David tumbled, permitting Miracle to get a field or two a-head; but Tarporley and Bootjack having regained their legs, took drain after drain in gallant style, till the last, which was both wide and deep, and railed on both sides, and into which they both fell, Bootjack keeping his place therein, whilst Tarporley, gallantly extricated by his rider, was mounted and off like lightning, passing Miracle dead beat on the way, and with Bootjack second, leaving all his competitors far behind. The distance was run in 14 minutes; and was accomplished without accident or serious injury; leaving Stephen Denstone the stakes for his prize, and confirming him as a fitting representative of his gallant father, whose deeds in the fox-chase are the talk and marvel of every good sportsman.

North Wales Chronicle, 16.12.1837     

Grand Steeple Chase

This interesting sport came off near the village of Cockshutt, on Friday last, Dec 1st, and the day being fine, a lively sense of confusion and bustle was exhibited. Indeed, so intense was the interest displayed upon the occasion, that upwards 2000 persons were present, comprised in a motley group of carriages and gigs, with horsemen, footmen, and waggon men, affording a regular benefit to the good folk of the village. The inns were all filled; houses, bake-houses, blacksmiths shops and sheds, either for men or for horses, the great and small of the village, were well-crowded with customers, some eating, some drinking, while other were getting ready for the sport. In short, it was all fun and noise.

At one o clock we took a view of the ground; the start was fixed 100 yards from Stanwardine Hall, the residence of Mr. S. Denstone; from thence across three fields to the village of Cockshutt, The Moors, Petton Old Gorse, near Petton Lodge, along the road, and up by the left of Stanwardine to the winning post, a distance of four miles, over a wet and heavy country, abounding with strong fences, sunk fences, drains &c., &c.

After much delay (an hour and half after the appointed time) the horses and their riders were seen to approach the starting place, the riders in their silken jackets; and at the word ready , off they went, bang over the first fence, which was done in a masterly manner. It would be difficult to say which of the first four, Tarporley, Bootjack, Rat-tail, or Miracle, had the best of it Pavilion and Rory O More not getting off quite so well as the others.

At the second fence Tarporley singled himself out, and cleared it, with the others in his wake. Rory O More and Pavilion keeping each other company at the same fence, Pavilion came down, and off came his rider but without much injury; and remounting, after the rest he went.

At the third fence Rat-tail swerved, and his rider fell and his steed having taken himself off, was not caught for some time. St David, who was leading at a steady rate, Tarporley, Miracle and Boot-jack, had now got a quarter of a mile ahead of Pavilion and Rory O More; but on crossing the road for the Moors the pace became very so so; though St David was still a-head from 50 to 60 yards. On arriving at the first drain, they all cleared it, together with the next fence; but at the second drain, in fell St David, Tarporley and Bootjack, but Miracle cleared it, as he did all his other leaps over dranes [sic], hedges and gates, which gave him a great advantage, and at that time he was two fields a-head of the lot. Tarporley and Bootjack, nothing downhearted, persevered and got over the drains except the last one, which was very wide, with rails on each side, and both jumped in it. Mr. Denstone, like a good sportsman, throwing himself off his steed, and horse and rider got out, leaving poor Bootjack to fight for himself.

Tarporley, again all right, was up and at em across the ploughed field for Petton Old Gorse, and for the road, where he overtook Miracle, who had caught it so well that out of the lane his rider could not coax him, although at one time he was three fields in front, and it was then thought he must have won. After this Tarporley had it all his own way, having left one of his competitors in a lane and the other in a drain; and on his coming in sight he met with long and and strong cheering from the immense number of people who had gathered together on the Little Hill. He was the decided winner. Bootjack shortly afterwards came up and was of course placed second; but what became of the others we could not find out, except that Rat-tail had been seen crossing two or three lanes, to meet Tarporley on coming in.

We are happy to add that amongst the very many mishaps of the day, no accident occurred excepting a few falls, with sundry spill &c. The four miles was run in fourteen minutes and a half. The winner, after paying the usual expenses, will be entitled to £20.

1837

14th Nov. Stephen Denston was very upset at the news of the North Shropshire Hunt losing its owner and master Sir Rowland Hill as per the following entry from the huntsman Will Staples (Ref 13):
14th November 1837. Met at Petton; this morning we almost received the death blow; Sir Rowland going to give up his hounds, everyone with his face as long as a fiddle.'Will, is this true?' was the cry of the morning. Half an hour later, when the word, Gone away from Burlton Wood was the cry, everyone seemed to regain their countenance so long as a hound could speak to the scent; when the fox was lost, then came the old story. Old Mr S. Denston came to me and said, 'This will kill me'; said another 'I must sell my horses'; 'What are we to do,' from all sides. I was glad when I got home from the melancholy scene.

<![if !vml]><![endif]>

Lord Hill and Will Staples of the North Shropshire Hunt ~ 1835
Lord Hill was a colonel at the Battle of Waterloo and led the charge aginst the French Imperial Guard. He subsequently became commander in chief of the British Army and and there is a monument (larger than Nelson s column) commemorating him outside the Shirehall in Shrewsbury.

~1838

<![if !vml]><![endif]>
Title:     Stephen Denston of Stanwardine Hall
Artist:   Richard Jones (1767-1840)
Medium:   Oil on Canvas 
Size:   36 x 43.2 in. / 91.4 x 109.8 cm.
Sale Of  Sotheby's New York: Friday, June 10, 1988

Mr Denston's neighbours subscribed to the cost of having his portrait painted by Richard Jones (RA) and it was presented to him at a Grand Dinner at Stanwardine Hall.

<![if !vml]><![endif]>

A print was made in 1838 with the following inscription:
To The Sportsmen in General of Shropshire
                     This Print Of
Stephen Denston, Yeoman of Stanwardine Hall
Is by permission most respectfully inscribed
Published by Mr Minor, Astley House, Shropshire 1838
Painted by R Jones               Engraved by Henry Quibley

<![if !vml]><![endif]>
Close up of Stephen Denston

1839

June 8th. Stephen Denston of Stanwardine Hall died 8th June 1839 aged 70. Anne (Jane), wife of Stephen Denston of Stanwardine Hall, died 30th November 1834(?) aged 66(?)
Ellen, 5th daughter of Stephen and Anne(Jane) Denston, died 12th April 1860 aged 52.
Emma, youngest daughter of Stephen and Anne(Jane) Denston, died 23rd March 1826 aged 43 (13?).
John, eldest son, died 4th April 1838 aged 42.
Mary, 3rd daughter, died 8th March 1842.
Jane, eldest daughter. died 22nd November 1842 aged 42? (50).
Gravestone Ref: 47.
Taken from two gravestones side by side at Baschurch midway along the southern side of the church next to the path.

1844

<![if !vml]><![endif]>

Tithe Map of the fields at Stanwardine in 1844 annotated by Sharon Varney as part of her PhD project on field names in 2009

1863

May 30th. Anne Denston, sister of Stephen Denston, died 30th May 1863(?) aged 97.
Also Stephen Denston died 27th June 1863 aged 56? (51).
Anne Denston, daughter of Stephen Denston, died 7th August 1868 aged 63.
Elizabeth, daughter of Stephen Denston, died 30th January 1878 aged 79.
Gravestone Ref: 46.
Taken from two gravestones side by side at Baschurch midway along the southern side of the church next to the path.

<![if !vml]><![endif]>

1858

<![if !vml]><![endif]>

Shrewsbury Chronicle - Friday 23 April 1858

1869

<![if !vml]><![endif]>

Shrewsbury Chronicle - Friday 19 November 1869

1927

<![if !vml]><![endif]>

Surrey Mirror - Friday 29 April 1927
Following taken from 1841 Census6 of people living at Stanwardine in the Wood
| | | | |
| --- | --- | --- | --- |
| Forename | Surname | Age | Occupation |
| Stephen | Denston | 25 | Farmer |
| Anne | '' | 70 | Independent |
| Jane | '' | 45 | '' |
| Elizabeth | '' | 35 | '' |
| Mary | '' | 35 | '' |
| Anne | '' | 30 | '' |
| Ellen | '' | 30 | '' |
| Elizabeth | Edwards | 20 | Maid |
| Elizabeth | James | 20 | '' |
| Martha | Hall | 15 | '' |
| Durard | Lover | 20 | Ag labourer |
| John | Bagley | 20 | '' |
| William | Hadbands | 15 | '' |
| Thomas | Becket | 15 | '' |
| Thomas | Dickin | 50 | Farmer |
| William | '' | 9 | Independent |
| John | '' | 1 | '' |
| Hannah | '' | 10 | '' |
Following taken from 1851 Census of people living at Stanwardine in the Wood
| | | | | |
| --- | --- | --- | --- | --- |
| Forename | Surname | Age | Status | Birth place |
| Stephen | Denston | 38 | Farmer of 375 acres | Baschurch |
| Eliza | '' | 29 | Wife of Stephen | Breadenheath |
| Mr. | Holbrook | 32 | Visitor | Breadenheath |
| Hannah | Holbrook | 30 | Visitor | Breadenheath |
| Ann | Boliscom | 20 | Dairy Maid | Baschurch |
| Hannah | James | 21 | '' | Ellesmere |
| Mary | Clark | 18 | Housemaid | " |
| Rich | Bayliss | 24 | Groom | " |
| Will | Edwards | 29 | " | " |
| Ed | Davies | 16 | Plough Boy | |
| Rich | Tytner | 28 | Ag labourer | |
| Joseph | Lewis | 31 | '' | |
| Martha | Lewis | 27 | Wife of Joseph | |
| Sarah | " | 1 | Independent | |
| Carl | Morgan | 80 | | |
| Ind | Morgan | 38 | Son of Carl | |
| Mavis | '' | 30 | Daughter | |
| Jane | '' | 8 | Scholar | |
| Sarah | " | 6 | " | |
William Sparling Head of Petton Hall was Justice of the Peace in 1851.
Following taken from 1861 Census of people living at Stanwardine in the Wood
| | | | | |
| --- | --- | --- | --- | --- |
| Forename | Surname | Age | Status | Birth place |
| Jane | Williams | 53 | Farmer | |
| Elizabeth | Hughes | 26 | | |
| Samuel | Williams | 21 | Son | |
| Griffith | Williams | 18 | " | |
| Jane | Williams | 16 | | |
| David | Hughes | 24 | Groom | |
| Thomas | Philips | | | |
Plus 17 servants
1861 William Sparling Head of Petton Hall age 83
Charles Sparling, age 47.
Following taken from 1871 Census of people living at Stanwardine in the Wood
Forename

Surname

Age

Status

Birth place

Jane

Williams

62

Farmer of 300 acres

Denbighshire

Lansilin

Samuel

Williams

30

Son

St Martins

Maria Jane

Williams

11

Daughter

Chirk

Susannah

Williams

33

Married

St Martins

Kate

Williams

10

Chirk

Edward

Williams

8

Scholar

Elizabeth

Philips

20

Dairy Maid
Plus 40 others
Following taken from 1881 Census of people living at Stanwardine in the Wood
Forename

Surname

Age

Status

Birth place

Deceased7

Samuel

Williams

40

Farmer of 300 acres employing 5 men

Chirk

Died 26th July 1883 aged 44**

Maria

Williams

37

Wife of Samuel

Montgomeryshire

Died 27th January 1919 aged 74

Alfred

Williams

6

Son

Baschurch

Aljeane

Williams

5

Daughter

"

Charles

Williams

8

Son

"

Killed in France 19th July 1917 aged 39.

Lance Corporal, King's Shropshire Light Infantry 1st Bn., Service No: 23609.

Cemetery: PHILOSOPHE BRITISH CEMETERY, MAZINGARBE.

Grave Reference: I. T. 34

Walter

Williams

2

Son

"

John

Williams

7 mths

Son

Oswestry

Killed at Ypres 28th March 1916 aged 35

Eliza

Walbuck

21

Nurse

Martha

Auster

28

Servant

Margaret

Auster

12

Edward

Nanerley

22

Samuel

Humphreys

20

Richard

"

18

Robert

Burgess

15
Following taken from 1891 Census of people living at Stanwardine in the Wood
| | | | | |
| --- | --- | --- | --- | --- |
| Forename | Surname | Age | Status | Birth place |
| John | Gresty | 41 | Farmer | English Frankton |
| Ellen | Gresty | 30 | Wife of John | Cheshire |
| Jane | Rowlands | 36 | Sister of Ellen | " |
| Mimmie | " | | Niece | |
| William | Jones | 28 | Farmer's Servant | |
| John | Newbound | 20 | " | |
| Thomas | Evans | 19 | " | |
| John | Edwards | 17 | " | |
| Thomas | Nicholls | 18 | " | |
| Mary | Walker | 20 | Domestic Servant | |
Following taken from 1901 Census of people living at Stanwardine in the Wood
| | | | | |
| --- | --- | --- | --- | --- |
| Forename | Surname | Age | Status | Birth place |
| John | Gresty | 57 | Farmer | Wem, Shropshire |
| Ellen | Gresty | 57 | Wife of John | Somerford,Cheshire |
| Jane | Rowlands | 55 | Sister of Ellen | Somerford, Cheshire |
| Mimmie | " | 21 | Niece | Heswald, Cheshire |
| Oswald | Manning | 21 | Dairyman, worker | Nantwich, Cheshire |
| Samuel | Chestus | 23 | " | Cockshutt, Shropshire |
| William | Husbands | 22 | " | " |
| Robert | Evans | 16 | Groom | Burlton, Shropshire |
| John | Evans | 16 | Cowman | Cockshutt, Shropshire |
On neighbouring farms in 1901:
Stanwardine in the Wood Farm: Joseph Darlington (32), wife Eva (25), and children Marian (4), Richard (1), and Myrimia(3 mths) .
Wycheley Farm: Samuel Hockenhull (32), wife Mary (28), and three sons William, Frank, and Stanely, plus one governess and four workers.
Nill Green Farm: Thomas Jones (37) plus 5 workers.
Stone Hill: Thoma Kynaston (58), wife Betsy (57) and daughter Edith (17).
1905 Kellys Directory of Shropshire (Available at the National Archives):
Gresty John (Mrs), farmer, Stanwardine Hall
Darlington Joseph, farmer, Stanwardine house
Dovaston Richard, farmer, Nil Green
Hockenhull Samuel, farmer, Wycherley hall
Kynaston Thoms, cowkeeper, Stonehill
Sadler, Charles farmer, Nil Green
Following taken from 1911 Census of people living at Stanwardine in the Wood
| | | | | | | | |
| --- | --- | --- | --- | --- | --- | --- | --- |
| Name: | Relationship to head: | Marital Status: | Sex: | Age in 1911: | Occupation: | Where born: | Notes |
| HITCHEN, WILLIAM | HEAD | WIDOWER | M | 60 | DAIRY FARMER | BADDILEY CHESHIRE | |
| HITCHEN, GEORGE LEWIS | SON | SINGLE | M | 28 | HELP AT HOME FARM | MORLEY HALL CHESHIRE | He became a farmer, Married Hannah Marten Lomas from Chapel en le Frith, Derbyshire in 1915. He died 28 November 1945 aged 62, Ty Gwyn Audlem, Crewe. Hannah died 10 December 1935 aged 46 at Highfields Baddiley near Nantwich. |
| HITCHEN, ERNEST | SON | SINGLE | M | 26 | HELP AT HOME FARM | MORLEY HALL CHESHIRE | He was a retired farmer in 1950, died Shrewsbury aged 74 in 1958. His grandson Peter Marsh now farms at Aston Hall near Wem and has been at Stanwardine in 2016. |
| HITCHEN, FRED | SON | SINGLE | M | 24 | HELP AT HOME FARM | MORLEY HALL CHESHIRE | Born 8 Jan 1887; farmer at Stanwardine Hall until 1957, died 1970, Oswestry aged 83 |
| HITCHEN, ROWLAND | SON | SINGLE | M | 22 | HELP AT HOME FARM | MORLEY HALL CHESHIRE | He became a farmer Chadwell Grange Farm Shifnal, died 6 May 1950 aged 61, wife Martha Anice. |
| FOWLES, SARAH | SERVANT | SINGLE | F | 28 | HOUSEKEEPER FARM | WHIXHALL SALOP | |
| WINDSOR, ETHEL | SERVANT | SINGLE | F | 21 | GENERAL FARM | HENGOED | |
| LOCKLEY, BESSIE | SERVANT | SINGLE | F | 18 | VESSELL CLEANER FARM | HAUGHTON CHESHIRE | |
| CARR, THOMAS | SON | SINGLE | M | 30 | WAGGONER FARM | HEAPEY LANCASHIRE | |
| BELLION, THOMAS | SERVANT COWMAN | SINGLE | M | 24 | COWMAN FARM | BURTON ON TRENT | |
| GAUNT, RICHARD LAWSON | BOARDER | SINGLE | M | 20 | FARM PUPIL | FARSLEY YORKSHIRE | |
| GAUNT, THOMAS HUGGAN | VISITOR | SINGLE | M | 23 | NURSERYMAN | FARSLEY YORKSHIRE | |
People living at Stanwardine House farm in 1911:
DARLINGTON, JOSEPH (Head,42, farmer),DARLINGTON, EVA (wife,35),DARLINGTON, RICHARD (11),DARLINGTON, MINNIE (10),DARLINGTON, KATHLEEN (1),WILLIAMS, JOHN (waggoner on farm,17),DEAN, JAMES (Helper with cows, 16),CHIDLOW, ALBERT (General help,13),POVEY, GERTRUDE DOROTHY (Vessel cleaner,17), FORMSTON, ALICE (General Servant, 15),WELLS, WINNIE (Nurse girl, 14).
~1905

E. Hitchen was tenant of Stanwardine under Ellis Brooke Cunliffe8 owner of the Petton Estate and grand-daughter of William Sparling.

1910

E. Hitchen closed the North Eastern gable second floor room on November 11th By Order of S J Lowles9

1917

Fred Hitchen, son of above, on return from First World War was tenant.

1919

Oscar J.L. Lewis inspected the afore mentioned room and found it all in order. 28-9-1919.9

1920

Stanwardine comprising of 252 acres was sold by Mrs Cunliffe in the Petton Estate to Fred Hitchen for £8000.

Details of Lots for Sale of Petton Estate:

Date: 1920

Description: Lot 1: Cockshutt Hall, 4 bedroom house, farm buildings, Dutch barn, garden and pasture, total 102.717 acres. Tenant Mr Thomas Dickin, jr.

Lot 2: Stanwardine Grange, 4 bedroom house, with farm buildings, Dutch barn and pasture, total 52.106 acres. Tenant Mrs Dickin.

Lot 3: The Wood Farm, 5 bedroom house, farm buildings, pasture, total 155.117 acres. Tenant Mr Wilfrid Hollins.

Lot 4: Stanwardine Hall, Elizabethan Manor House with 10 bedrooms, oak staircase and Banqueting Hall, walled garden and orchard. Large farm buildings, pasture, total 251.645 acres. Tenant Mr Fred Hitchen.

Lot 5: Nill Green Farm, 5 bedroom house with Press house with Cheese lift, garden and orchard. Farm buildings including 6 piggeries, pasture, total 214.584 acres. Tenant Mr A. E. Williams.

(Ref: Shropshire Archives: SC/2/77)

1922

Frederick Hitchen, farmer of Stanwardine park is listed in the 1922 Kellys Directory of Shropshire (Available at The National Archives). Also listed are

Darlington, Joseph, farmer, Stanwardine house.

Birch Thomas, cowkeeper, Stone hill.

Hockenhull Samuel, farmer, Wycherley Hall

Williams Alfred, farmer, Nill Green

Dovaston, Richard, cowkeeper, Nill Green.

1923

A fire occurred in the farm buildings where a number of calves were destroyed by a roof falling in and many cattle were burnt who were tied up by their chains which had become red hot. George Townsend was awarded a medal for managing to unfasten some of the chains, and Lizzie Reeves and Harold Gregory were also awarded certificates for bravery.

<![if !vml]><![endif]>
Yorkshire Post and Leeds Intelligencer - Monday 10 March 1924

<![if !vml]><![endif]>
Taunton Courier, and Western Advertiser - Wednesday 19 March 1924

1939

In the 1939 Register, Fred Hitchen is listed as living at Stanwardine Hall with the occupation of Farming (DOB 8 Jan 1887), along with:

Doris M Boyling (Rogers) 19 Jun 1909 House Keeper

Lily Smith 4 Sep 1911 Domestic Servant

Thomas Bellion 15 Mar 1886 Farm Labourer (General)

Betram Price 30 Mar 1889 Farm Labourer

Neighbours in 1939:
Nill Green farm:
Williams, Arthur, 8th August 1879 - Pig dealer
Williams, Minnie, F, 4th August 1885, wife
Williams, Eric, M, 4th Aug 1913, single, Dairy farmer
(2 entries closed)
Williams, Stanley. M 22 Aug 1913, Horseman on farm
(1 entry closed)

Wycherley Hall:
Hockenhull, Colin , M, 21 Dec 1904, Dairy farmer
Hockenhull, Lucy, F, 29th March 1904
(1 entry closed)
Hockenhull, John, M, 8th Mar 1934, Incapacitated
(1 entry closed)

Wycherley Cottage:
Williams, Emily, F, 15th Oct 1887, Widowed

Stanwardine Farm:
Edwards, Frank, M, 8th Jun 1900, Dairy Farmer
Edwards, Mary, F, 15th Mar 1898, wife
(1 entry closed)
Edwards, Charles, M, 10th May 1833, S, At school
Dorces, Margaret, F, 5 Jul 1914, S, Housemaid
Ewing, Bridget, F, 10 Aug 1902, Dairymaid

Stone Hill:
Thomas Harry, M, 24 Jul 1901, cowman
Thomas Dorothy, F, 4 Sep 1908, wife

1940

Used by the 51st Medium Regiment Royal Artillery (Midland) as a re-grouping place after Dunkirk. Dec 1940 - Jul 1941.
(The Battalion War diary is at the National Archives Ref: WO 166/1921 June 1940 Dec 1941, but there is no specific mention of Stanwardine other than that on November 26th 1940 an extensive recce of large properties in the neighbourhood (of Ellesmere) for billeting of entire regiment on their relief from C.D Work (Civil Defence work checking shipping into Liverpool area). On the 29th November 1940 personnel of the 51st Medium Regt arrived by special train at Ellesmere at 17.15hrs. On the 23rd July 1941 the regiment moved to Bedford.

1941

Sticky Tom, a farm worker, receives a bullet in his backside after a Spitfire shoots down a stray barrage balloon. Part of the barrage balloon is now used to cover the billiards table.

1941

Farm Survey of Stanwardine Hall in June 1941:

Crops and Grass (Acres):

Wheat - 9, Barley - 15, Oats - 0 Mixed Corn - 22, Potatoes - 5, Turnips - 5, Mangolds (Fodder Beet) - 5, Sugar Beet - 5, Kale - 2.

Orchards - 2.5

Clover & temporary grasses for mowing this season - 20

Permanent grass for mowing this season - 12

Permanent grass for grazing - 149.

Total acreage - 251.5

Labour:

Wholetime male workers: 7

Casual male workers: 1

Women and girls: 0

Livestock:

Cows and Heifers in milk: 64

Cows in calf, but not in milk: 5

Heifers in calf: 5

Bulls being used for service: 3

Bulls (including calves) being reared for service: 6

Calves for rearing: 20

Calves intended for slaughter: 3

Total Cattle and Calves: 139

Sheep:

Rams: 1

Two-tooth Ewes: 30

Other Sheep over 1 year old: 120

Lambs: 145

Total Sheep and Lambs: 296

Pigs over 5 months old: 18

Poultry:

Fowls over 6 months: 100

Fowls under 6 months: 20

Total Poultry: 120

Horses:

Mares used for Agricultural Purposes: 1

Geldings used for Agricultural Purposes: 7

Unbroken geldings over 1 year: 5

Heavy horses under 1 year: 1

All other horses: 0

Total Horses: 14

1957

Bob Richards acquired the farm from Fred Hitchen comprising of house and 250 acres.

1957

David Bridge acquired part of the farm with wife Margaret née Hall, a daughter, Patricia born in 1955, and a son, Peter born in 1956. Farm comprised of house and 140 acres.

1960

David Bridge acquired remainder of farm from Bob Richards.

1967

Sat Dec 16th, Foot and Mouth epidemic diagnosed on farm resulting in slaughter of entire herd of cattle and pigs. David Bridge was asked to write a foot and mouth diary describing the events for the British Farmer magazine.

1972

William Bridge born.

1976

Chimney fire occurred on Christmas morning damaging mezzanine floor bathroom on eastern side of house.

1981

Margaret Bridge wrote a History of Stanwardine Hall from 1957-1981 as part of a wider Weston Lullingfields WI Domesday project.

1987

92 acres of land and some of the farm buildings of Stanwardine House were bought.

1990

Western Room on the first floor, known as the Banqueting Hall, was converted into a flat for David and Margaret Bridge.

1991

Peter Bridge married Fiona Johnson of Rhodesia and Shrewsbury April 13th 1991.

1992

Henry Bridge born.

1993

Charles Bridge born.

1996

Edward Bridge born.

1997

27 acres of land at Petton were bought from John Hodnet and 100 acres from Edward Jones.

2002

William Bridge married Adele Rodriguez-Alarcon of Moscow and London. August 17th 2002

2003

Elizabeth Bridge, daughter of William and Adele, christened on August 3rd 2003. Born in 2003 at St Mary's hospital in London.

2017

<![if !vml]><![endif]>
Fiona Bridge giving interview about Stanwardine with Adam Green from Radio Shropshire on Wednesday 20th September. Listen to broadcast extract.
References:
1. Eyton, Ancient Antiquities of Shropshire, Volume 10.
2. Taken from a 13th century parchment held at Shropshire Local Records Office in Shrewsbury. Ref 3195/1 pg 28.
3. Gough, History of Myddle.
4. Acton, Castles and Ancient Mansions.
5. Schedule and Receipt of Deeds to William Sparling, 14th July 1839.
6. Census of 1841, 1851, 1861, 1871, 1881 and 1891 available at the Public Record Office, Chancery Lane, London.
7. Taken from gravestone at Weston Lullingfields Church.
8. Ellis Brooke Cunliffe, Description of Stanwardine attached to the back of a sketch of Stanwardine currently hanging in the Dining room.
9. Writing on the wall of the North Eastern gable second floor room.
10. International Genealogica Index (IGI) at www.familysearch.org
11. Weyman. Members of Parliament for Shropshire, page 140-141.
12. Wendy Jones, Cockshutt and Petton Remembered, page 224.
13. T.H.G. Puleston, A History of Fox-hunting in the Wynnstay Country and Part of Shropshire. 1893 (Reprinted 1993). Page 190.
14. Sir Thomas Scriven http://www.historyofparliamentonline.org/volume/1660-1690/member/scriven-richard-1625-83
Description of Stanwardine Hall
The following notes are taken from the book 'Old Shropshire Houses and their Owners', by H.E. Forrest.
Stanwardine Hall is mainly E-shaped in plan built with red sandstone brick from Grinshill and with stone facings and mullioned windows. The bricks are of the small Elizabethan type and beautifully mellowed by age. The house is three storeys and presents three gables to the front, the centre one forming a porch of equal height with the others. At the top is a stone carved with the Corbet crest, the elephant and castle, whilst lower down above the porch , is a shield with a coat of arms and crest of the same family. Above the right hand gable is a weathercock with the Corbet badge, the raven. On entering the house we find that the great hall has been partitioned into three rooms. Round the top runs a deep frieze with plaster ornaments in relief exhibiting a series of blank shields with scrolls or knots between them and trailing vines. There are two staircases of solid oak blocks, one spiral with central newel post, the other ascending with short rectangular flights. Many of the rooms are oak panelled, but the wainscot appears to have been put in at various dates. A double panel with carved border in the dining room exhibits on the left side
1588
C
RI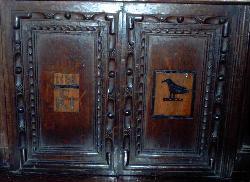 The initials are those of Robert Corbet (builder of the hall) and his wife Jane.
On the right side of the panel is the raven.
Another room adjoining has larger panels and a mantel-piece with Jacobean ornamentation, all, apparently Charles I period.
A low room above the kitchen has a square stone let into the wall on which is carved
Sr I W
Knt & Bat
1713
i.e. Sir John Wynn, Knight and Baronet.
The floors are of oak and are said to be four inches thick. Bagshaw writes in his gazetter, 'In the front of the hall is a pedestal of stone upon which is affixed a sundial; on the plate which is of silver, is a beautiful engraving and some fine tracery bearing the arms of the Corbets and the Wynns, and the date 1560'. He is mistaken in regard to the Wynn arms - they do not appear anywhere at Stanwardine. Sadly the silver plate was taken to Petton Hall while the Cunliffes were owners in the late19th and early 20th century and it has since disappeared.
The front door is original, as are its knocker and handle and the fastenings of the windows.
Sketch and Photographs of Corbet Crest above porch
<![if !vml]>
<![endif]>
<![if !vml]>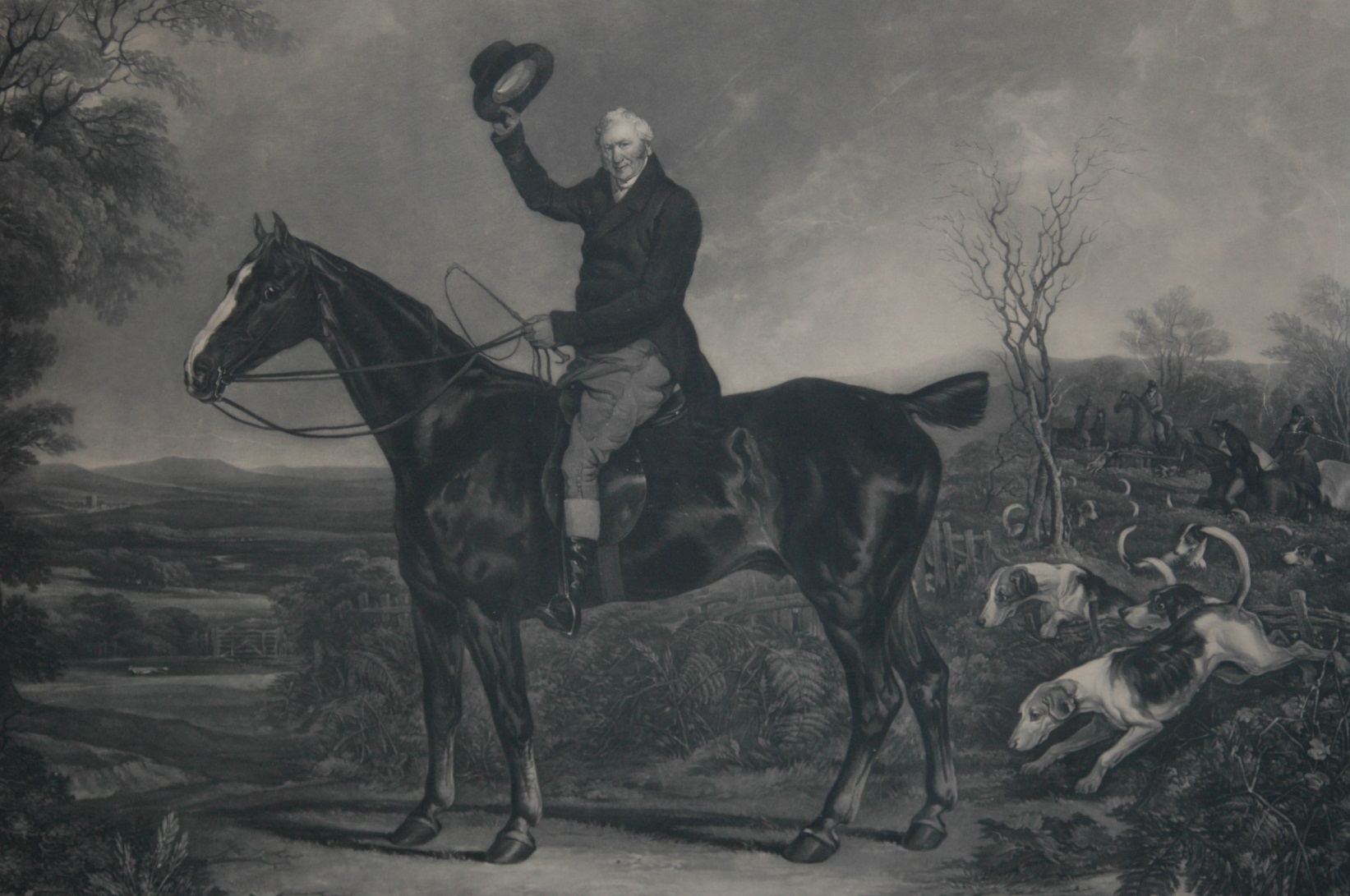 <![endif]>
Above is an 18th century sketch of the stone crest above the porch.
It shows the Raven of the Corbet, and also heraldry for Hord who owned Stanwardine in the 15th century and who Jane Kynaston (who married Robert Corbet) was a descendant of.
The inscription at the bottom reads Mediocra firma - i.e., The middle way is the best .
Ref: Shropshire Archives: SA-IMG163
<![if !vml]>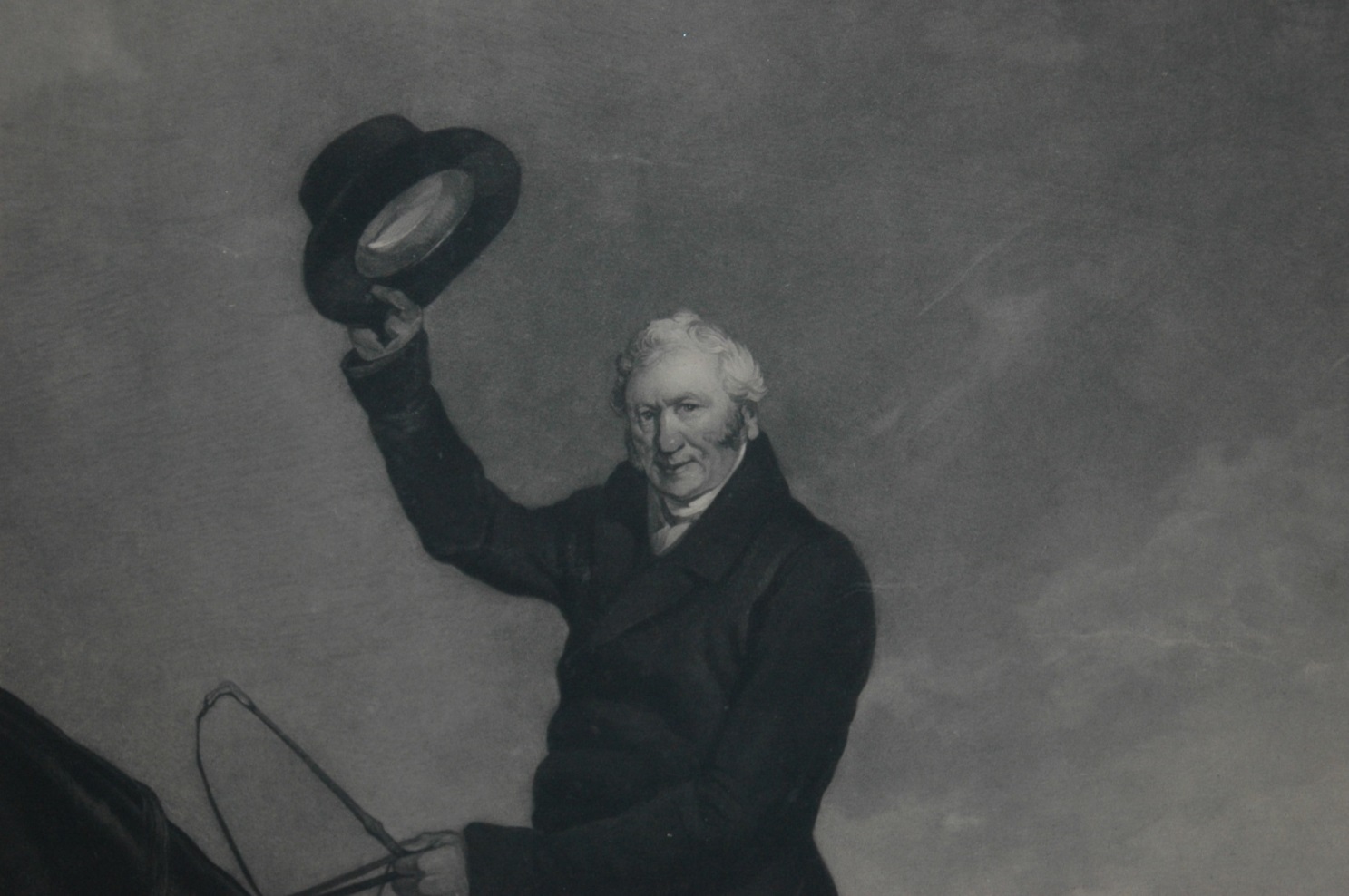 <![endif]>
Photograph of crest in 2006
<![if !vml]>
<![endif]>
Photograph of Elephant & Castle with the name CORBET above and THOMAS & MARGARET below.
<![if !vml]>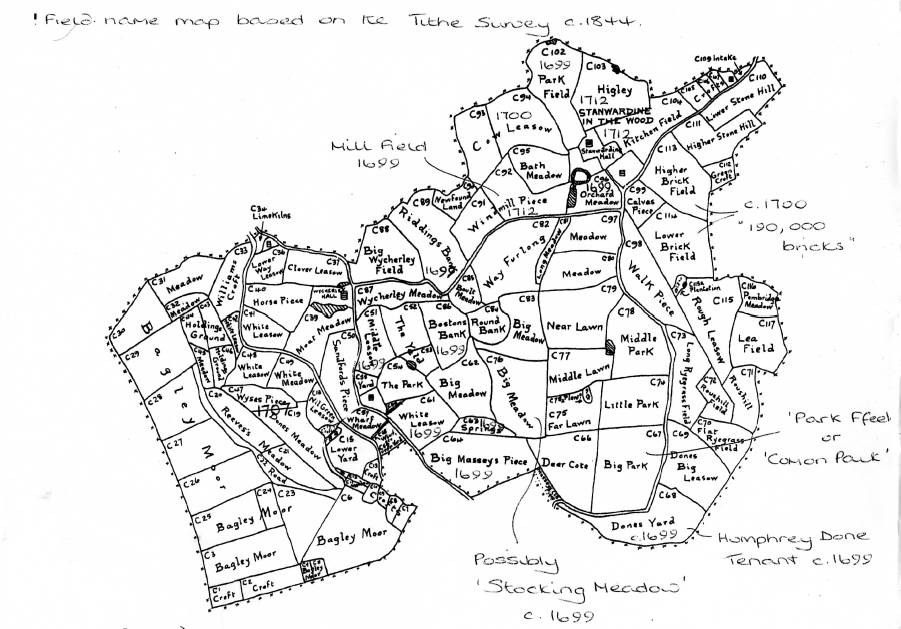 <![endif]>
Crest in the window of a bedchamber
Source: 18th century document at Shropshire archives: Ref: SA-IMG2179. NB: The Crest is no longer present.
1560 Sundial
In front of Stanwardine Hall, near Baschurch, Shropshire, a fine old Elizabethan mansion, now converted into a farmhouse, stands a pillar-dial, having a silver plate. The dial is circular and horizontal, drawn in a square; and the four vacant corners of the square are occupied by two couplets; and below, on one side, by an elephant with a castle on his back; and in the opposite corner is a squirrel sitting up and eating. In the centre of the plate there is a stanza of four lines, and beneath is a bird on a shield, with the date, "anno 1560."
<![if !vml]>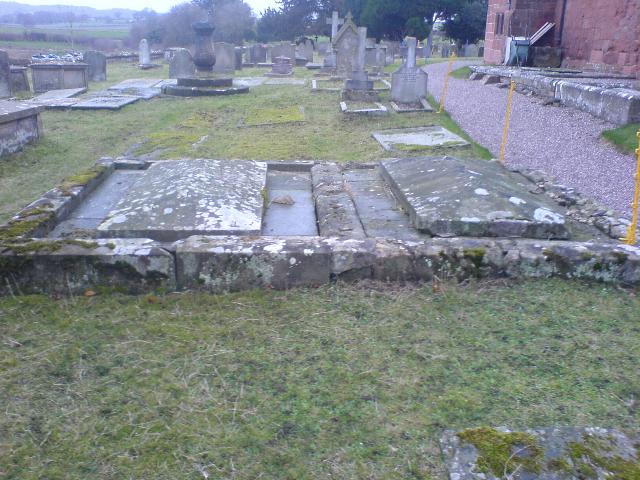 <![endif]>
Ref: A. Gatty with H.K.F. Eden & E. Lloyd (Eds): The Book of Sun-Dials, 4th edition, Bell & Sons, London (1900).  http://digital.library.upenn.edu/women/gatty/sundials/294-150.jpeg
There is a very detailed article on The Stanwardine Hall Dial by Dr John Davis & Harriet James of the British Sundial Society which shows photographs of the dial and a reconstructed line drawing. The article states it is the third earliest metal garden horizontal dial in the country and the earliest not in a museum . The hour lines of the sundial (which vary with latitude) were also apparently drawn with a great degree of accuracy with a standard deviation of only 0.273° showing a high degree of competence in the delineation .
Ref: J. Davis & H. James: The Stanwardine Hall Dial , BSS Bulletin, Volume 18(iii), pp99-106, (September 2006).
http://sundialsoc.org.uk/bulletin-contents/
<![if !vml]>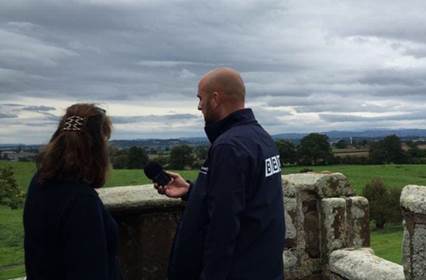 <![endif]>
Photograph of the sundial kindly provided by Dr John Davis of the British Sundial Society
Inscriptions on sundial:
In the Hour of Death
God Be Merciful
Unto Me.

As Time Doth Haste
So Life Doth Waste.

He that will Thrive
Must Rise at Five;
He that Hath Thriven
May Lie Till Seven;
He that will never Thrive
May Lie Till Eleven.
The sundial was removed from Stanwardine in the early 1900s and is now in Norfolk.
<![if !supportLineBreakNewLine]>
<![endif]>
Historic Building Report by Garry Miller, Architectural Historian
1 Rational & Historical Background
3 Plan and Construction
4 Exterior Survey
5 Interior Survey
6 Roof Structure and attic, and 7 Evolution of Stanwardine Hall
8 The Farm Buildings
9 Appendices
10 Photographic Plates
Survey by Andor Gomme published in the September 1988 magazine for the Annual Conference of the Society of Architectural Historians of Great Britain.